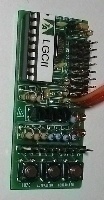 7-Channel Landing Gear Controller

If Our 3-channel Langing Gear Controller isn't big enough for you then our LGCII is the answer. It has all the features of the LGC1 and has a total of 7 individually programmable servo outputs. 7 modes of operation cover all your automation needs. A special cycle is included for doors that close after wheels-down. Modes are also included for general automation applications such as bomb releases. A PC interface is available so you can upload, download and save your LGCII Programs.

Thomson Automation- all rights reserved 2011

Download the English user's manual here

The Dutch user's manual is comming soon!

Now with PC interface

See the remote control panel here

Download the RS232 Adapter manual here

Download the USB Adapter manual here

Download the USB Adapter driver here