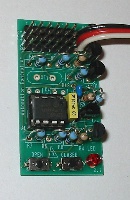 LGCI Landing Gear and General Automation Controller for 3 Servos

The Thomson Automation Digital Landing Gear Controller is an automation controller perfect for use in radio-controlled airplanes and other model vehicles that use standard radio-control servos. It can be used as either a single-acting or double-acting landing gear controller or as a one-step, two-step or three-step general automation controller. Two or more units can be
connected in series or parallel for longer sequences or more channels of control. The double-acting landing gear modes are suitable for use in airplanes such as the P-51 where the gear doors close again after the gear is lowered. A wheels-up switch can be used to initiate the door closing to overcome the problems of uncertain speeds of motion in air-powered systems. An output is available for landing light control. Servo-powered and air-powered motions are accommodated and travel speeds and distances are fully programmable. If you are like us and never have enough servo channels, the Landing Gear Controller is for you.


Thomson Automation- all rights reserved 2011

Download the English user's manual here

Download the Dutch user's manual here

View a film of the single-door cycle here

View a film of the double-door cycle here

For info on the wheels-up switches, click here

Rotating Beacon Simulator