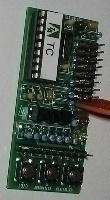 5-Channel Throttle Controller

If you have multi-engine airplanes in your fleet or just need to balance up to five servos, the Throttle Balancer is a perfect solution for your control system. It's also great for expanding servo functions such as landing gear controls on systems with up to six doors. You can control up to five servos with individually adjustable end and center points of travel from one receiver or controller channel.

Thomson Automation- all rights reserved 2011

Download the English user's manual here

The Dutch user's manual is comming soon!

See the remote control panel here

Now with PC interface

Download the RS232 Adapter manual here

Download the USB Adapter manual here

Download the USB Adapter driver here