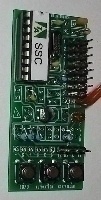 Servo Setup Controller

While building your model, adjusting the servo linkages or checking control surfaces, The Servo Setup Controller helps by setting up to 8 of your servos at a chosen position and keeping them there. Because of it's extended range, most servos can be set through 180 degrees instead of the normal 60 or 90. I generates it's own signals and requires only power. A PC interface is also available so you can more easily manage, store and recall your setups.

Thomson Automation- all rights reserved 2011

Download the English user's manual here

The Dutch user's manual is comming soon!

Now with PC interface

See the remote control panel here

Download the RS232 Adapter manual here

Download the USB Adapter manual here

Download the USB Adapter driver here